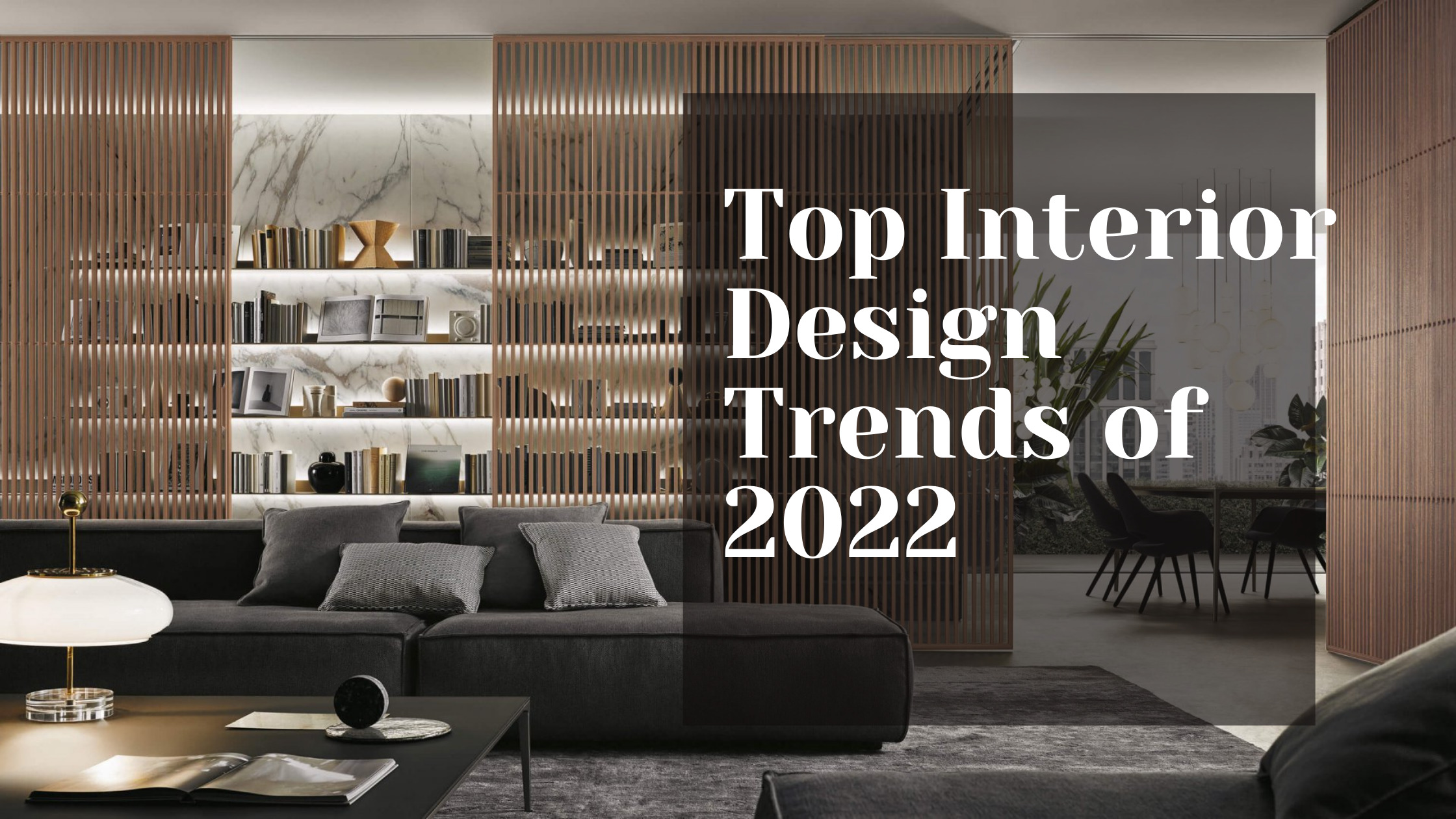 February 17, 2022
Top Interior Design Trends of 2022
Numerous people might rediscover their roots in this time despite the ups and downs of the years 2020 and 2021. Quarantined life has enabled us to begin the process of making our homes—however minimalist or sprawling—more useful and attractive reflections of our own experiences, interactions, and design sensibilities.
We've chosen five interior design trends for 2022 that provide exciting chances to transform our houses into the ultimate sanctuary, a location to inspire creativity, a sustainable and healthy environment, and more efficient use of space.
Zen Environments
We must not forget the last two years, good or bad. Given that the last two years have left an indelible imprint on our brains, we recognize the importance of recalling simpler times. It will begin to manifest itself in the choices we make. We all want to have times in our houses when we can relax and unwind, and these new aesthetics in home design will help us achieve that goal.
Are there any zen areas in your home? What exactly is zen? Zen is a state of tranquillity or tranquility. With many individuals continuing to work from home due to COVID-19, homes have become a stressful atmosphere devoid of true relaxation. Many people nowadays like to have a zen space or room in their home rather than simply a regular bedroom or bathroom. What contributes to the zen-like quality of space? You may achieve a relaxing aesthetic by using clean lines, floating surfaces, neutral hues, light wood, and plants. Creating a place that is uncomplicated and uncluttered will assist you in relaxing and feeling more tranquil.
Using Earth Tones To Add Warmth To The Space
To continue the discussion on how the last two years have altered our way of life, we'll dive into the emotional aspects of it all, including the latest in interior design news. People will gravitate toward earthy tones as the next big color trend. It contributes to the coziness we want. We want to bring the outdoors in since we cannot go out as often as we would like. Using earth tones to help you feel more at one with nature will be the next big trend you'll notice. That doesn't surprise me.
The colors of the earth are known as earth tones. Subtle shades that may be used in a variety of ways make these hues a popular choice. Some examples of muddy tones are murky mustard yellow and taupe as well as moss green well as chocolate browns. These designs take their cues from nature and never fail to make an interior seem cozier. However, although earth tones may work in various settings, sustaining visual appeal may be difficult. That is why it is preferable to work with muted earth tones rather than vibrant hues.
Greens That Are Refreshing
According to Sherwin Williams, the year's color for 2022 will be Evergreen Fog. We anticipate his hue to be a component of this year's décor trends. While Evergreen Fog is an earth tone, it is on the warmer side of the green family, which helps tie everything together. The warmth of the green contributes to the necessary sensation of relaxation and tranquillity in the house. To get the most out of this color, contact our designers now.
It's astounding how fast a color pick can go awry. Yet another method of bringing the outdoors in.
Green represents nature, rejuvenation, growth, wealth, and stability. Green is often seen as a fourth hue in addition to the basic red, yellow, and blue, providing visual balance and, as a consequence, a calming and relaxing effect.
Natural Materials
If you haven't seen a trend for 2022 by now, this should help you do so. We can now discuss materials with Piggie retaining earth tones and bringing the outside in. If you haven't seen the return of natural light wood tones and cane back chairs, keep an eye out since they are already here and will surge this next year. I would recommend including rattan or cane back chairs. Perhaps a jute rug and some organic natural elements, such as plants incorporated into pottery and natural light fixtures. You want to create a peaceful atmosphere in your house that connects you with the natural world.
Without question, the most popular natural material for interior design trends is wood. It has a long history of lasting appeal, which looks to be continuing to grow. It is undoubtedly the trend toward crafts and increased awareness of environmental issues. We are all aware of the fashionable pallet tables and bookshelves. Wood is a simple, comfortable, and ubiquitous material to deal with.
Plans with Closed Floors
Indeed, I started it! A new purpose for our living spaces is required now that we spend so much time there. With more work, education, and exercise occurring at home, the open floor layout seems to be less popular. To be clear, we all adore our family, correct? Even if we're spending more time at home, the need to be open doesn't fit with our new lifestyle. Taking a business call when your youngster is on a Zoom lesson does not seem to function properly.
The need for our own space has increased significantly as this year has gotten longer. Make no mistake; the design is undergoing a paradigm shift toward a more thoughtful consideration of how you will use the space.
With the absence of open space and the use of walls, people typically associate small floor plans with a lack of light and a feeling of being confined. Everything is governed by the furnishings you choose and how the format is configured. Both open and closed floor patterns have their advantages and disadvantages. To my mind, the biggest disadvantage of a closed floor plan is that it requires a much more imaginative lighting strategy, which may result in greater restoration costs and other costs.
However, the real benefit of a closed floor plan is that it creates solitude between rooms, which results in a cozier and more sustainable overall feel throughout the home. Additionally, you will have far more wall space, which means significantly more area to display artwork—something I consider a bonus!
The Best Way to Stay Current with Interior Design Trends
Trends in interior design come and go. If you're remodeling your home, you may desire to look forward rather than decorating in the present trend, which might go out of style at any time. The following are a few techniques for staying current with interior design trends.
Be unique. Be inventive. Make your happiness a priority. At Adroit Group, we have a team of interior design experts who are well-aware of the latest interior design trends and themes. Contact us now to get your home designed at the most competitive price and in the most hassle-free way.