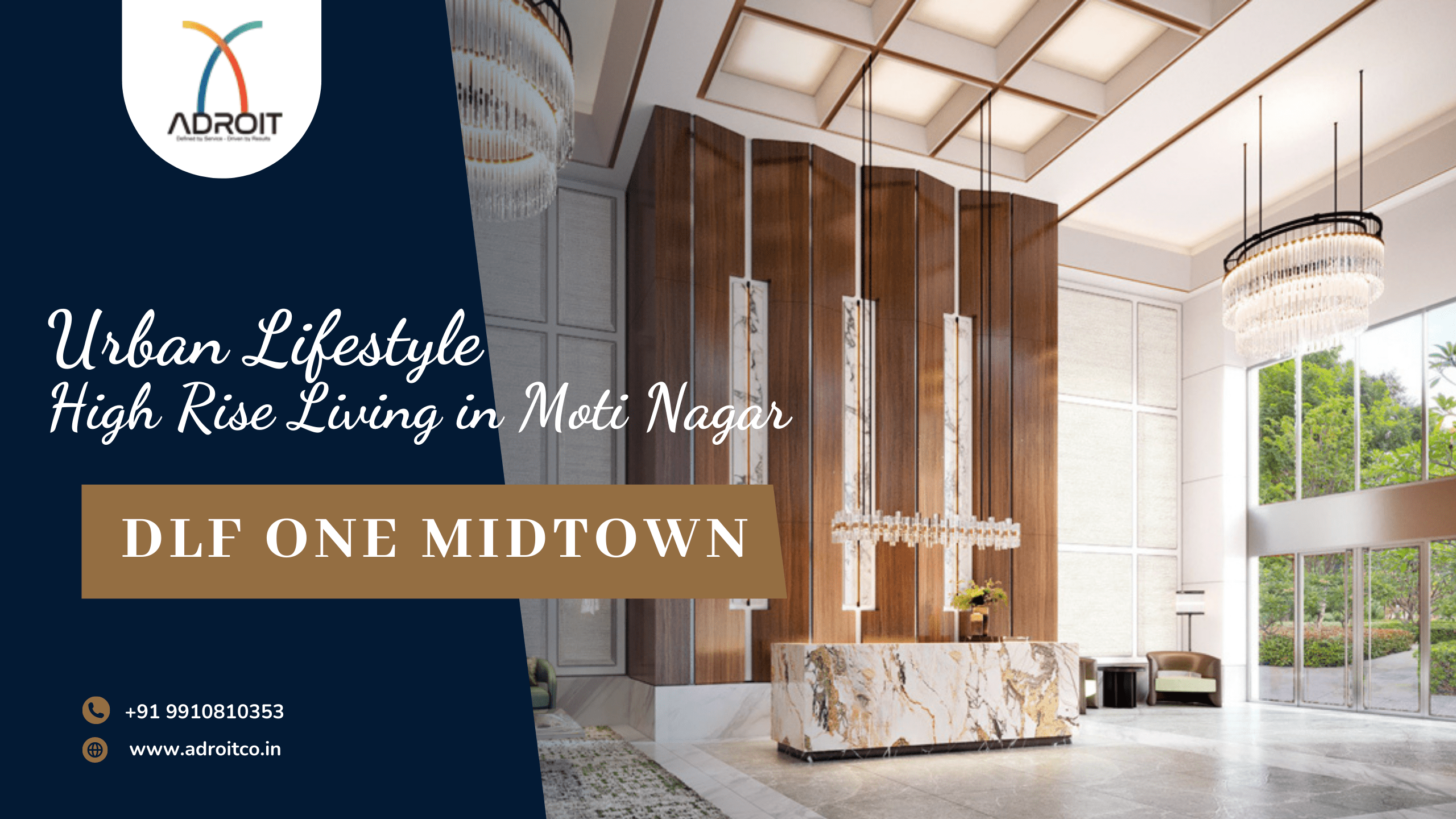 May 24, 2022
Urban Lifestyle High Rise Apartments in West Delhi – DLF One Midtown
DLF One Midtown : A home is a place of rest, a place where loved ones come together & enjoy some quality time, a place where you make memories with your loved ones and often times invite friends over to watch some cricket or celebrate together!
Years, maybe decades go by and you feel yourself getting a bit tired. Tired of organizing, coordinating, maintaining and up-keeping your house year after year.Maybe you start looking at the people living in high rise communities and think, how nice it would be to have all of the errands done for you, so you can simply utilize your time more efficiently in your busy schedule and enjoy every minute in your house not too far from the childhood memories, the familiarity of the colony and your favorite neighborhood shopping stores.
DLF One Midtown Moti Nagar Floor Plan
DLF is coming up with One Midtown high-rise apartments with options to choose from –
2 BHK Apartments DLF One Midtown – 1550 Sq ft 
3BHK Apartments  DLF One Midtown– 2300 – 2400 Sq ft
4 BHK  Apartments  DLF One Midtown– 3000 Sq ft 
To transform West-Delhi (Moti Nagar) into a modern high quality lifestyle living facility with everything either just a call away or within your vicinity, where you will be able to avoid the chaotic traffic of Delhi roads and make the best use of every minute of each member of your family, be it your kids, parents or yourself.
From security to experience, you have it all because you deserve it after all the hard work you do to make your living to provide the BEST to your family.
Your Home at DLF MIDTOWN-
Here is a glimpse into how your life is going to be living in DLF One Midtown.
Your kids can play safely with no worries because One Midtown is equipped with state of the art 24/7 security monitoring and visitor protocols.
Your elders do not need to go looking for a park to go on their morning/evening walks. They simply walk in the gated community stretched over 5.5 acres. You can be worry free because you'll be amongst a familiar community.
Socializing is as easy as walking out of your house. You do not need to drive anywhere to meet your friends. One Midtown is getting a state of the art clubhouse with all amenities and a restaurant for you to dine in with a five star concierge service
Be with like minded people. You will find yourself enjoying your evenings a bit more than usual because One Midtown will always have something happening right in your backyard.
You have a well maintained roof worth showing off. Unlike the other high rises, you will have access to use the roof over your head. The view of the vast luscious green protected area is breathtaking
The location is just right! DLF Midtown Delhi  is just a short drive from the international airport and the New Delhi railway station. Adjacent to Moti Nagar and Kirti Nagar metro stations, you enjoy easy access to four metro lines: Blue, Pink, Green and Red. Patel Road, Rohtak Road and the Ring Road offer great connectivity. With the infrastructure being upgraded rapidly, One Midtown will have a greater accessibility to the rest of the city as well.
So if you are staying in West Delhi and wish to live in a self sufficient community right there, DLF Midtown is definitely a high recommendation from us.
We at Adroit Group, understand your needs and have dedicated real estate specialists to assist you in owning your home. Follow us for more details at